Russian Human Rights Activist and Opposition Blogger Seeks Asylum in Bulgaria due to Political Persecution in the Homeland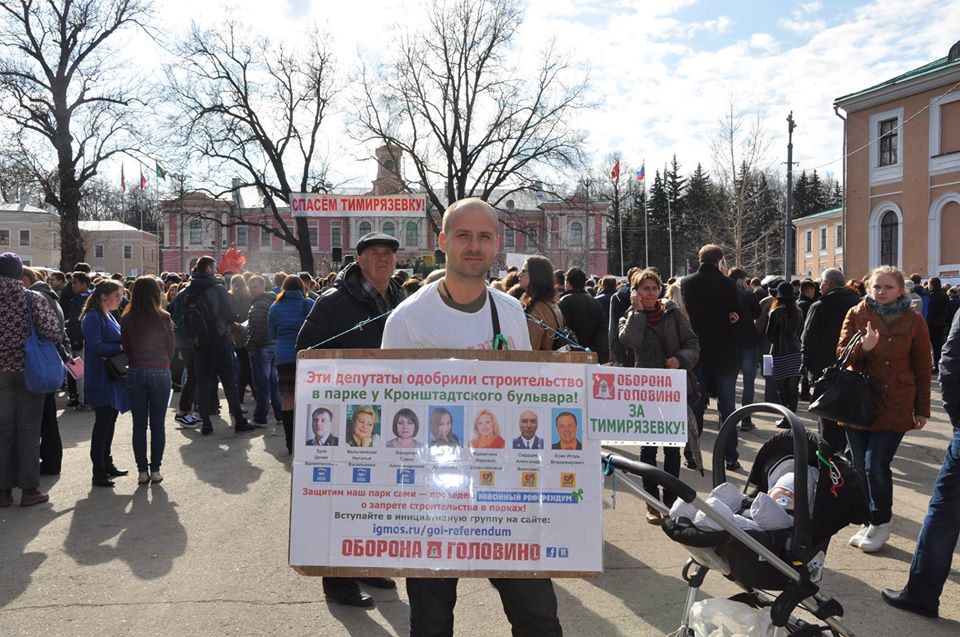 The founder of Moscow local human rights movements "The Defence of Golovino", "The Defence of Levoberezhny" and "The Defence of Aeroport district" (Golovino, Levoberezhny and Aeroport are the names of administrative districts in the north of Moscow) Evgeny Choupov had to flee from Russia with his family and to apply for protection in Bulgaria. This is a result of a political persecution and the threat from Russian police authorities to plant on drugs and to institute new criminal proceedings.
First time Evgeny was detained by Russian police on May 22-nd, 2019 while campaigning for an opposition candidate to Moscow City Council  Ivan Zhdanov, the Director of FBK (The Anti-Corruption Foundation of Alexey Navalny).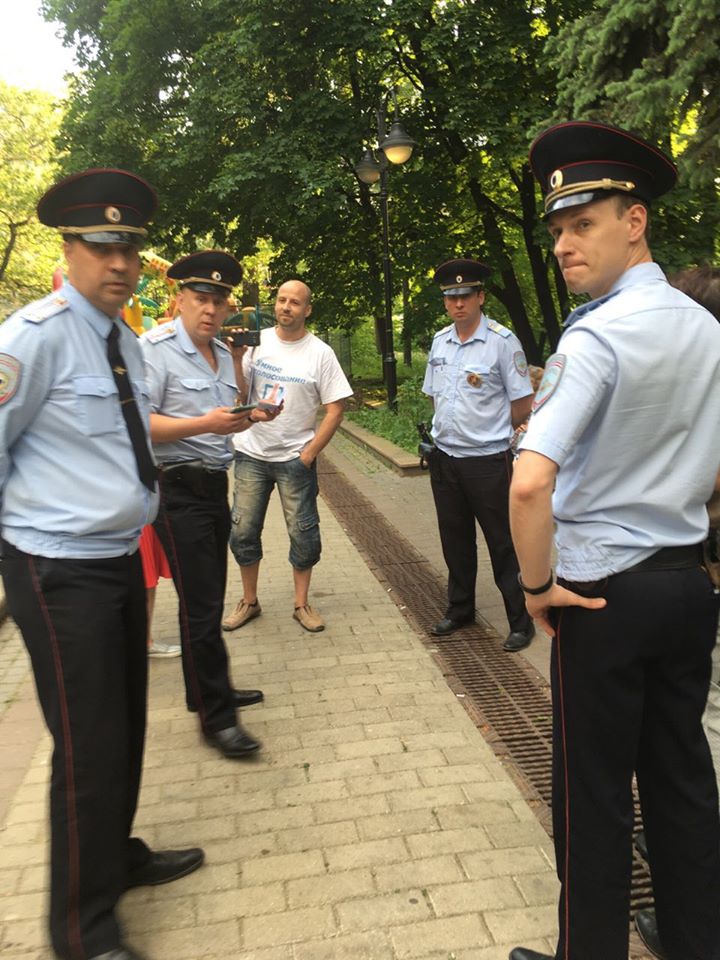 Evgeny, while in detention, called human rights CSOs which resulted in his and others release. But before the release policemen and women collected his and others passport numbers. This was a direct order of mr. Alexey Maskunov, the Head of the local Centre for Combating Extremism or Center "E". Center "E" was officially set up to combat extremism and terrorism, but is now mostly known for incompetence and harassing opposition activists).
Center "E" in Russia is a kind of secret police which is unofficially allowed to kidnap and  torture people, to plant on drugs,  illegal weapons, extremist literature and to fabricate criminal proceedings. Mainly they do it for good crimes solving statistics and bonuses. Due to the wide corruption within Russian police, public prosecutors and judges who actually act as a united body, not a single Center "E" officer has ever been brought to justice. 
The second time Evgeny was detained one week later on May 28-th, 2019 in the morning on his way from nursery school he had taken his younger children to. As it was found out later the operation was also run by Center "E" and this time Evgeny was charged with damaging wheels on a car but the evidence has never been presented.
At 10 a.m. on the same day Evgeny was taken into custody where a police officer in plain clothes supervised by mr. Alexey Maskunov led Evgeny to an office without surveillance cameras, punched him in the stomach, handcuffed him, took away Evgeny's smartphone and sport camera and gave them to Maskunov. After that Alexey Maskunov started to examine personal messages in Evgeny's smartphone and make manipulations with it. 
Maskunov  was menacing Evgeny with planting on drugs, bodily harm and even death towards him and his family, claiming that "In the Caucasus they normally kill such people like Evgeny" and "If Evgeny were in America he would be shot dead". Also Maskunov interrarogated Evgeny about the opposition candidate Ivan Zhdanov and showed his excitement about "catching the blogger" from "The Defence of Golovino" movement.
After Evgeny was punched in the gut he  experienced coronary symptoms and asked the officers to call the doctor, to call his family to let them know about his whereabouts and to to file the official indictment. All Evgeny's demands were ignored by the officers.
After the personal search Evgeny's smartphone and sport camera were  seized for examination. After Evgeny once again demanded to let him contact his lawyer, he was punched in the stomach once again.
Two hours later from the moment of taking to the police station Evgeny was left with another officer at custody who finally called the doctor after Evgeny's several demands. 
The ambulance team refused to provide Evgeny with a call to his lawyer and family and just said there was no problem with his health.
Meanwhile Evgeny's wife saw his live stream on Facebook at the moment of detention in the morning 
https://www.facebook.com/groups/golovinsky/permalink/2951072428244191/  
https://www.facebook.com/groups/golovinsky/permalink/2951076081577159/ 
and started to call to human rights organisations and journalists.
Human rights volunteers and journalists finally managed to locate Evgeny and sent him a lawyer.
The lawyer mr Vladimir Voronin arrived at  the police station at 6 p.m. but was never allowed to enter for two hours unless there was "a special officials' permission" obtained.
At 8 p.m. lawyer Vladimir Voronin was let in and an investigator gave  Evgeny and the lawyer a notice  that a criminal proceeding had been initiated against Evgeny on damaging car wheels.  After that Evgeny was released from custody at about 9:30 p.m. Furthermore,  the person the allegedly damaged car belonged to (no proof of the damage has ever been presented by the investigator)  turned out to be another one officer from  Center "E" and Maskunov's subordinate Igor Shepel. 
On the total Evgeny spent almost twelve hours in custody without any official indictment and without an opportunity to contact his lawyer and family.
Long before the incident Evgeny and his family had planned to spend the summer holiday in Bulgaria, so they had already bought air tickets and obtained tourist visas in advance. So on May 30-th, 2019 they left for Bulgaria. 
While being in custody Evgeny had no idea whether he would be able to see his family again, let alone spending the vacation together, taking into consideration the steps Russian authorities have been taking for the past two decades  to suppress the opposition.
After the release from custody Evgeny and Lawyer Vladimir Voronin filed complains to Russian police and public prosecution office. From the official reply from the public prosecution office Evgeny learnt, and it is quite common practise in Russia, that no law violation and abuse of power had been detected by the public prosecution office in  the police officers' actions while Evgeny's detention and keeping him in custody for almost 12 hours without any indictment, access to the lawyer and medical help. Normally, all  judges in Russia are corrupted and strongly affiliated with the corrupted police and the public prosecution office and never  sustain  claims for opposition activists, unless there is  wide public outcry, but even with a huge public opinion pressure it happens very rarely. Corrupted policemen, public prosecutors and judges misusing their power normally  face punishment only when they have conflict of interests with their corrupted colleagues or their superiors. That's why activists and  ordinary citizen extremely rarely go to court in case their rights have been violated, because it's well known in Russia, that it's in vain  and a waste of time and efforts. 
Also from the official reply from the public prosecution office Evgeny learnt that his apartment search had been sanctioned, but the investigators hadn't managed to conduct the search because Evgeny and his family were abroad. Although neither  Evgeny nor lawyer Vladimir Voronin had ever informed the investigator about Evgeny's departure.  Given the common practice of Russian police to use apartment search as means of threatening opposition activists and to plant on drugs and illegal guns, that can cause new criminal indictment and persecution , the Choupovs decided not to come back to Russia and to seek political asylum in Bulgaria according to the 1951 Refugee Convention and the Dublin Regulation.
Normally, when the Russian  police plant on drugs to activists and ordinary citizens there is no chance to find justice in court due to the high level of corruption and affiliation with the police and public prosecutors. In Russia the percentage of acquittals on such cases, as well as any other criminal or administrative cases, is extremely low – 0.25% (https://en.wikipedia.org/wiki/Conviction_rate#Russia ). And basically Russian police plant on drugs for good statistics on crimes solving. They usually plant on the minimum of drugs required to raise criminal charges, and thousands of innocent people unable to resist the corrupted and repressive system are senteced to prison from 3 to 9 years. At the same time the real drug lords and criminals  are protected by the police and corrupted judges. Very few policemen in Russia who had planted on drugs, have faced legal punishment. 
Evgeny Choupov and his family are eager to express their  gratitude to all human rights organisations both in Russia and Bulgaria,  that have already helped and have been still  helping them,   especially Voice in Bulgaria: Center for Legal Aid https://www.centerforlegalaid.com ,  which provides the family with the legal support.
Evgeny's video on his first detention on May 22-nd, 2019:
The full presentation of Evgeny Choupov's case and human rights activism background:
Evgeny's Facebook profile
https://www.facebook.com/eugene.choupov 
The webpage in Russian with all the materials http://igmos.ru/choupov
Publications in Russian media on Evgeny's second detention on May 29-th, 2019:
https://www.svoboda.org/a/29968655.html 
https://m.rosbalt.ru/amp/moscow/2019/05/28/1783666.html 
https://ovdinfo.org/express-news/2019/05/28/v-moskve-zaderzhali-uchastnika-agit-kampanii-direktora-fbk-ivana-zhdanova 
http://www.kasparov.ru/material.php?id=5CED3E8502F73&section_id=434531dde0dd8 
https://mbk-news.appspot.com/news/volontera-agit/ 
https://mnews.world/ru/v-moskve-zaderzhan-uchastnik-predvybornoj-kampanii-direktora-fbk/ 
https://tvrain.ru/news/v_moskve_zaderzhali_uchastnika_agitatsionnoj_kampanii_glavy_fbk-486533/ 
https://m.news.yandex.ru/yandsearch?cl4url=abc153ed8f4d7742e121442ab15acb1e&title=V_stolice_zaderzhan_uchastnik_agitkampanii_direktora_FBK_ZHdanova&lr=213&lang=ru&stid=ikx-&persistent_id=65021031&rubric=incident&from=rubric&mar=1